TUMBLED STONES


Smokey Quartz - Selenite




Smoky QUARTZ
from Brazil
Smoky quartz is protective and grounding. It aids the reduction of the effects of stress and can transmute fear, anger and other negative emotions into positive energies while calming the user. It is also said to provide clarity of thought, improve intuition and stimulate higher connection in meditative states. As a healing crystal it works well with the first chakra area base of spine and surrounding organs. Smoky quartz is also good for self empowerment.
| | |
| --- | --- |
| Bulk smoky quartz averages 1/2 to 3/4" | |
Tourmilated QUARTZ
from Brazil

Black Tourmaline (Shorl) is considered one of the strongest protectors and removers of negativity--the powers of which are thought amplified in quartz.
RHODOCHROSITE
from Argentina



Rhodochrosite is an elegant pink and white stone called the "stone of love and balance" as it balances and enhances love on all levels. It allows fuller love to enter one's life, in part by calming excessive passions. It energizes and cleanses the base, sacral and heart chakras, as well as balancing the mental and emotional processes. Traditionally, it has been considered good for the digestion, the heart, the kidneys, the pulse rate, and the thyroid.

| | |
| --- | --- |
| Bulk Rhodochrosite pieces average a 1/2" in size. | |
RHODONITE
from Australia



Originally discovered in Rhodesia, (now known as Zambia and Zimbabwe), this beautiful dark pink with black inclusion stone has since been discovered in Australia.

Rhodonite is a stone of grace and elegance. It decreases anxiety while increasing attention to detail. It works beneficially on the heart chakra, opening one to unconditional love and increased service to mankind. It is also a calming stone and a stone of contrasts. The bright pinks indicate energy that enhance passionate love. The shiny black indicates grounding energy. This stone can help one have a passionate love that is also grounded. Physically it has been known to help with emphysema, joint inflammation, light sensitivity, strep throat and heart disorders.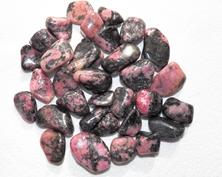 This photo is of 8 ounces of rhodonite from ZIMBABWE
This item is available in 2 oz bags for $3.00, 4 oz bags for $5.00, and 8 oz bags for $9.50
Red SELENITE
from Morocco

Red Selenite is said to have the same properties as white. Many people feel the spiritual connections are the same as with white selenite and physical connections are even stronger.
Colors of red selenite range from peach to dark orange.



tumbled red selenite is currently out of stock. we have red sticks listed under selenite and tumbled white selenite just below.

White SELENITE
from Morocco


Selenite is a stone of mental clarity, enhancing mental flexibility and strengthening decisions. With it you can access past lives. It also promotes good business practices. It removes energy blocks from the physical and etheric bodies. It also aligns the spine, is good for the skeleton, and decreases epilepsy and seizures. It also has the ability to clear other stones that are placed on or near it. Selenite is associated with the crown chakra.


Disclaimer: This information regarding the metaphysical and other properties and purposes of these stones are provided for entertainment purposes only. It is not intended for diagnosing illness, prescription, or advice and should not replace proper medical attention. Consult your Doctor or other health care practitioner regarding health issues. Sister's Rocks is not liable for any use or misuse of this information.
Website powered by Network Solutions®