NEPHRITE JADE
from Vancouver Island, British Columbia, Canada


Nephrite jade is a stone of the heart. As such, it is related to the heart chakra and has a beneficial effect on all heart chakra related issues, and all love relationships. It is also considered to be good for emotional balance and stability. Jade of all kinds is a very protective stone and is particularly good protection for children, against illness, and for psychic protection. It has energetic clearing properties, and is useful to keep with other stones. Physically, nephrite jade is used in the crystal healing of the physical heart, and kidney problems.

Jade is temporarily sold out - we have more in stock, check back soon
SANSKRIT STONE
from India



Sanskrit Stone stimulates the gift of prophecy, provides grounding, brings vitality to creativity, and is very useful in healing (especially Reiki).

It is my understanding that the wonderful patterns in sanskrit stone are created from fossil plant blades such as grass.



Sanskrit Stone is temporarily sold out. We have more in stock, check back soon
Disclaimer: This information regarding the metaphysical and other properties and purposes of this mineral are provided for entertainment purposes only. It is not intended for diagnosing illness, prescription, or advice and should not replace proper medical attention. Consult your Doctor or other health care practitioner regarding health issues. Sister's Rocks is not liable for any use or misuse of this information.
TUMBLED STONES


Jade to Jasper




BRECCIATED JASPER
from South Africa


Brecciated Jasper is a mixture of reds, some white, and some black jasper interspersed occasionally with clear or blue-grey agate.
Brecciated Jasper has the qualities of enhancing organizational abilities, relaxation, and a sense of wholeness. It is occasionally used to assist when dowsing. It aligns the chakras and balances the yin-yang, physical, and emotional. It is a stone of protection, and is used in particular for protection during astral travel. Brecciated jasper encourages attunement and communication with animals and can help with animal allergies, plus other allergies. It brings happiness and a good outlook on life and eases stress. Brecciated jasper can help increase physical endurance and ward off dehydration. It is also a good stone for grounding oneself and is associated with the root chakra.



Photo shows 8 ounces Brecciated Jasper
DALMATION JASPER
from Mexico


Dalmation jasper is a stone that lessens or removes disillusionment. It helps one to see their strengths and weaknesses, and encourages grounding both with the Earth and in reality. Dalmatian Jasper increases loyalty and is beneficial for long term relationships. It brings a sense of fun to one's life. Physically it can help purify the blood. It is a stone of protection from nightmares, depression, and negative thinking. It is also particularly beneficial for healing people who have trouble relaxing and having fun.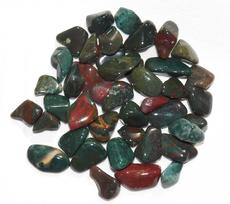 Photo of 8 ounces Fancy Jasper. Fancy Jasper is mixture of bloodstone, greens, moss jaspers
GREEN JASPER
from Brazil


Green jasper is used for respiratory/Heart Chakra work. It is especially suited to tempering aspects of your life that have taken on too great an importance. It works as a gentle daily reminder that the whole is only the result of all the parts and works best on ailments of the upper torso, digestive tract, and the cleansing organs.

BLOODSTONE
from India


Green jasper flecked with red and more commonly known as bloodstone, it is believed that this stone will help to overcome depression and melancholia - especially if it is worn by the sufferer. It is also said to help those who suffer from psychosomatic illness and pains which have an emotional rather than a physical cause. Bloodstone is also a purifier of the blood and a general detoxification of organs, particularly the liver, kidneys and spleen. It helps to allow light into the body. Provides vitality, strengthens idealism and the will to do good - especially for charity. Increases one's talent, stimulates the kundalini and balances all of the chakras.



Website powered by Network Solutions®