Amethyst
has come to be known as a Power Crystal with prolific healing powers that can be characterized as purifying, pacifying, and transitional. Amethyst has the ability to transform lower energies into higher and acts as a healer at all levels of mind, body and spirit.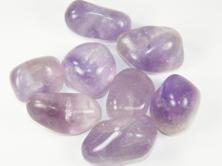 Tumbled Maraba Amethyst from Para
Maraba Amethyst from Para, Brazil is very beautiful and unusual. Translucent and sometimes clear, it is lighter in color than most amethyst, which is usually dark and dense.
These stones are large to extra large, measuring 1 to 1 1/2"

2 ounces averages 3 stones; 4 ounces averages 5 to 7 stones, 8 ounces averages 6 to 9 stones



Tumbled banded amethyst from Mozambique. Photo shows 8 ounces of stones size MEDIUM



Photo above shows 8 ounces of tumbled amethyst. Stones are Large, average size 1" or more. Occasionally one a little smaller. Stones are from Mozambique.



ROUGH TUMBLING ROCK
Larger photos of our rough amethyst can be found under "Tumbling Rock"
ROUGH AMETHYST MIXED
This mix is of all five of the amethyst that you find below: India, Bolivia, Brazil, Madagascar, and Mozambique.



Our banded, chevron amethyst rough stones from Mozambique are mostly separate crystals that range from 1 to 3 inches. Some pieces are broken chunks, but all perfect for the tumbler.



Our rough amethyst from Madagascar ranges in size from about 1/2 to 1 1/4" and weighs 10 to 30 grams each.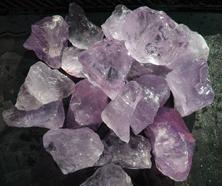 Brazil Amethyst WET
Our rough amethyst from Brazil ranges in size on average from 1 to 1 1/2 inches and weighs 15 to 30 grams per piece. It's various shades of light purple, most pieces very clear.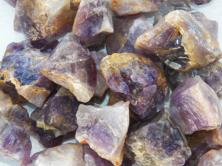 India Amethyst WET
Our India amethyst ranges in size from 1 to 2 inches and averages 20 to 40 grams per piece. Colors range from light to dark purple with an occasional rose blush.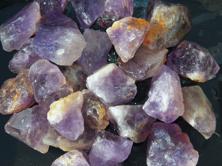 Rough Bolivia Amethyst
Our amethyst from Bolivia is very beautiful with rich color and occasionally you will get a piece of ametrine. Sizes range from 1 to 1 1/2" on average and weigh from 20 to 40 grams each.



Amethyst hand carved Piggy
1" long, 5/8" high, 1/2" wide

Maybe we can find some in September

Amethyst Butterfly, measures 1" wide, 3/4" high 3/8" thick. Packaged in soft acrylic velvet storage pouch.



Windows /
Seer Stones
Used for meditation and scrying. Seer Stones will aid you in reaching out to higher spiritual realms.
Amegreen (amethyst & prasiolite)
1 1/2 x 1 3/8 x 7/8"


Amethyst
1 5/16 x 1 x 3/4"


Lovely Amethyst pocket heart from India. Heart comes with soft, velour storage pouch and metaphysical info card.

This is a 30mm heart, measuring approximately 1 1/8"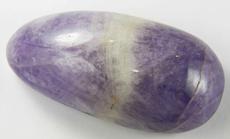 Amethyst Wand Round #8
We carry a wide range of massage wands, in different styles, sizes, and gemstones. Please click this link to visit our
Massage Wands


pages or find them under the Crystals/ Healing tab
photo shows 100 carats
100 cts (20 grams) of tumbled amethyst crystal from INDIA, size extra small to small, velveteen pouch and metaphysical properties included



photo above shows 2 ounces of amethyst points from Uruguay, size XS 1/4" to Medium 1" - Colors range from very pale purple - almost white- to deep purple. Very beautiful stones


Our Bracelets come
GIFT READY
packaged in a soft, drawstring pouch with official Fundamental Rockhound metaphysical info card and Stone Certification card.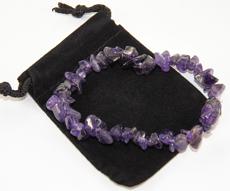 Small chip Amethyst bracelet
Amethyst Chip bracelet
elastic stretch
One Size Fits Most



Chunky Chip bracelet
elastic stretch
One Size Fits Most
large chunks average 3/8 to 5/8"



Triple Twist Chip bracelet
elastic stretch
One Size Fits Most
small chips average 1/4"



Disclaimer: This information regarding the metaphysical and other properties and purposes of this mineral are provided for entertainment purposes only. It is not intended for diagnosing illness, prescription, or advice and should not replace proper medical attention. Consult your Doctor or other health care practitioner regarding health issues. Sister's Rocks is not liable for any use or misuse of this information.
Website powered by Network Solutions®