Psilomelane is a hydrous manganese oxide with a hardness of 5-6. Our beautiful banded psilomelane is mined in western Virginia, USA. The bands are created by inclusions of pyrolusite.
As with other black stones, psilomelane can shield one from negative energies and evil. In Europe it is a popular meditation tool and used for gazing and scrying and assists one with reading the Akashic Record. It allows one to be more objective with one's own actions and understand seemingly random strikes against one's spiritual being. It is a good luck stone for Sagitarians.
Psilomelane is associated with the third eye chakra and used to link energies between the third eye, crown, and root chakras.
Disclaimer: This information regarding the metaphysical and other properties and purposes of this mineral are provided for entertainment purposes only. It is not intended for diagnosing illness, prescription, or advice and should not replace proper medical attention. Consult your Doctor or other health care practitioner regarding health issues. Sister's Rocks is not liable for any use or misuse of this information.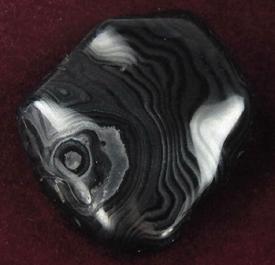 Banding can be straight or swirled like this
Bulk Tumbled Psilomelane from Virginia, USA.
Individually packaged and labeled with weight.
Stones are selected at random.

Extra small pieces weigh less than two grams and measure 3/8 to 1/2". Small pieces range from 2 to 4 grams and measure 3/8 to 3/4". Medium stones range from 4 to 8 grams and measure 1/2 to 1" and Large stones range from 8 to 15 grams and measure 3/4 to 1 1/4"



Website powered by Network Solutions®