This stone is a black or brown matrix filled with tiny shell fossils. My tumbled stones are mostly dark brown and found north and east of Little America off interstate 80. The rough slabs are from stones we picked up along the eastern edge of Wyoming's red desert, about an hour north of the Colorado border.
The Wyoming locals have called this stone Turitella agate for more than a hundred years. Yes, the fossils in these stones are shaped like a turitella, but in actuality they are not. You see, Turitellas are salt water snails and this area of Wyoming has never been covered with salt water, only fresh water. These shells are actually goniobasis shell fossils. No matter, it is still called Turitella Agate. You will find grey and blue agate in these, here and there, where the protein / little bodies of the snails agatized. They are very pretty stones.
Metaphysically, Fossils represent the Earth Chakra and keep you grounded, protected, and aligned with the Earth's magnetic core. They are an excellent tool for assisting one in moving from the old to the new and help one be receptive to fresh ideas. They help in the quest for transition, transformation, and personal growth, and help you to be more accepting and patient during life's upheavals.
Disclaimer: This information regarding the metaphysical and other properties and purposes of this mineral are provided for entertainment purposes only. It is not intended for diagnosing illness, prescription, or advice and should not replace proper medical attention. Consult your Doctor or other health care practitioner regarding health issues. Sister's Rocks is not liable for any use or misuse of this information.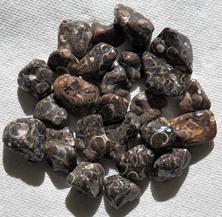 4 ounces of stones
Closeup of tumbled Turitella agate
Our beautiful tumbled Turitella Agate comes in 2 oz, 4 oz, or 8 oz bags. The photo above shows 4 ounces of stones. Sizes range from ½ " to 1 ¼"



Website powered by Network Solutions®