Goldstone is said to help attain one's goals. Goldstone is also said to help one stay calm and stabilize the emotions. It can be used as an energy generator and can deflect unwanted energies, making it used as a protection stone. It is also used for long distance healing and revitalizing one's energy field. Goldstone also has many of the metaphysical properties of copper, including strengthening the circulatory system, strengthening bones, and easing arthritis pain.

Bluestone opens the throat and third eye chakras and is an excellent stone for meditation when attempting to communicate with the angels. It is also an excellent stone for any type of communication; perfect for people who need to make a speech or speak in front of a group of people and are a little uncomfortable doing so. Bluestone is said to clear the mind and allow thoughts to flow evenly, all the while calming the emotions.


Goldstones are man made stones, but inclused with 100% natural minerals to create the sparkles. Goldstone has Copper added, Bluestone has Cobalt added, and Greenstone has Manganese added.

Please be aware that the hearts are much more beautiful than our photos show :)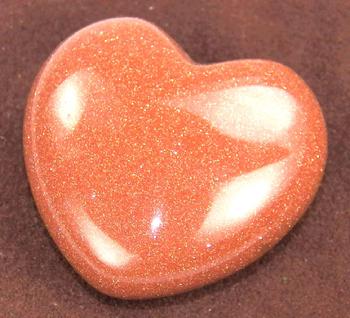 Goldstone Heart
Lovely Goldstone pocket heart from China. Stone is a dark Rust colored with thousands of copper sparkles. Heart comes with soft, velour storage pouch and metaphysical info card.

This is a 30mm heart, measuring approximately 1 1/8"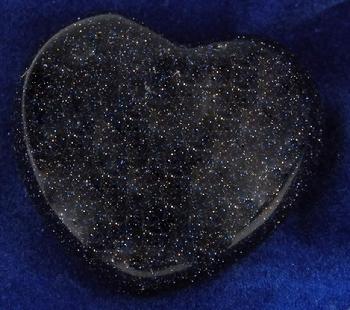 Bluestone Heart
Lovely Bluestone pocket heart from China. Stone is a deep, navy blue with thousands of silvery sparkles. Heart comes with soft, velour storage pouch and metaphysical info card.

This is a 30mm heart, measuring approximately 1 1/8"



Carved Goldstone Bear
Measures 1 x 5/8 x 1/2"



STARS
Stars represent the ELEMENTS OF NATURE - Earth, Water, Air (or Wind), Fire, and Spirit (also known as Aether),
the basic elements of our material world and beyond.
Spirit is represented by the point of a five pointed star pointing up, the other four points represent the remaining four Elements of Nature.
Life is created by Spirit from the other four Elements and when something dies it returns to the four Elements as well as to Spirit.
Goldstone Star
average size 1 1/8" x 1/4"
Packaged in soft velour pouch with official Fundamental Rockhound info card.



Sweet little Goldstone Angel, measures 1" tall, 3/4" wide, 3/4" thick. Packaged in soft acrylic velvet storage pouch.



Disclaimer: This information regarding the metaphysical and other properties and purposes of this mineral are provided for entertainment purposes only. It is not intended for diagnosing illness, prescription, or advice and should not replace proper medical attention. Consult your Doctor or other health care practitioner regarding health issues. Sister's Rocks is not liable for any use or misuse of this information.
Website powered by Network Solutions®