Aragonite Star Clusters are powerful allies for the healing and balancing of the emotional body. They can assist in maintaining a center of serenity in trying circumstances and in discharging subconsciously held tensions relating to past emotional wounds. Meditation with these clusters can open the inner eye to visionary experiences of past lives and forgotten events in this lifetime. They are powerful diagnostic tools for crystal workers who do body layouts.

The energy of Aragonite Star Clusters is at once soothing and energizing. Because of the form, they radiate energy outwards in may directions, creating a web of Light Force throughout the energy systems. They blend the energies of all five elements, creating a sense of balance and completion.
White Aragonite
White aragonite opens the crown and third eye chakras. It is very calming and is known as a stone of forgiveness and compassion.

Brown Aragonite
Brown aragonite is an excellent grounding stone. It is also used to center and ground physical energies and helps to alleviate stress. It stabilizes the base chakra and strengthens one's connection with the earth.

Blue Aragonite
Blue aragonite opens the heart, throat, and third eye chakras. It can calm and center and helps to soothe one's psyche.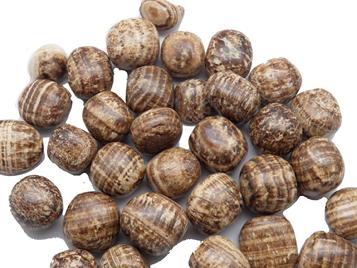 Tumbled Brown / Honey Aragonite from Peru
Tumbled brown Aragonite from Peru

Extra small pieces weigh less than two grams and measure 3/8 to 1/2". Small pieces range from 2 to 4 grams and measure 3/8 to 3/4". Medium stones range from 4 to 8 grams and measure 1/2 to 1" and Large stones range from 8 to 15 grams and measure 3/4 to 1 1/4"



Our sky blue aragonite is from China.
Medium = 4-8 g (1/2-1 1/4"), Large = 8-15 g (3/4-1 1/4"), XL = 15 to 22 g (1 - 1 1/2"), XXL = 22 to 38 g (1 1/4 to 2") these are "average" numbers



Aragonite Wands from Peru
We carry a wide range of massage wands, in different styles, sizes, and gemstones. Please click this link to visit our
Massage Wands


pages or find them under the Crystals/ Healing tab
Disclaimer: This information regarding the metaphysical and other properties and purposes of this mineral are provided for entertainment purposes only. It is not intended for diagnosing illness, prescription, or advice and should not replace proper medical attention. Consult your Doctor or other health care practitioner regarding health issues. Sister's Rocks is not liable for any use or misuse of this information.
Mini Star Clusters


from Morocco
Star Cluster A View 1
Star Cluster A View 2
8.6 grams
1 1/8 x 1 x 5/8"



Star Cluster C View 1
Star Cluster C View 2
Star Cluster C View 3
Website powered by Network Solutions®