Grey Cat's Eye
from Brazil
Natural Cat's Eye (chrysoberyl) is a stone of good fortune and good luck. It is said to bring serenity and happiness, along with optimism and generosity. It is used in emotional crystal healing to bring forgiveness, balanced emtions, and self-esteem. Cat's eye can enhance creativity and kindness. It is also a stone of protection. Physically, cat's eye is used in crystal healing for kidneys, pancreas, liver, lymph nodes, spleen, and leukemia issues.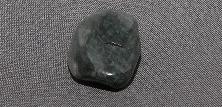 #3
Dumortierite
from Madagascar
This stone acts as an aid to your mental capabilities in overcoming tough situations. It opens the third eye chakra to enhance mental (and emotional) intelligence. As a Learning Stone, it promotes mental discipline especially in regard to learning new things. Students find it useful when they are required to take in large amounts of data over short periods of time, because it aids memory. As a Vision Stone, meditate or sleep with dumortierite to stimulate psychic or prophetic vision if you are gifted.

Use with Lapis Lazuli to increase psychic ability.
Red Aventurine
from India
Red Aventurine is believed to reduce negative thoughts and to encourage a positive attitude. It is said to be able to diffuse a negative situation and to turn it around. In addition, Red Aventurine is said to encourage your ability to see possibilities and to enhance your creativity and prosperity. In healing, Red Aventurine is believed to heal the reproductive system, balance the blood pressure and to calm the nerves. It is also said to encourage the body to burn fat efficiently. Smoothed over the skin it is thought to bring relief from eczema and fungal skin infections.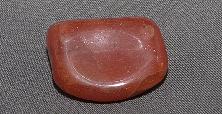 #1
#3
#4
#5
Magnesite
from Nevada, USA
Magnesite is a magnesium carbonate with the same crystal structure as calcite, a calcium carbonate with a hardness and texture similar to turquoise and marble. Magnesite forms when magnesium-rich rocks such as serpentine or dolomite are exposed to carbon dioxide-rich water.
Typically white in color, magnesite ranges from yellow to white to grey in its natural form. The translucent to opaque stones can have a web-like pattern and a surprising fluorescing quality under shortwave UV lamps due to the high content of magnesium, which is how they are sometimes found in deep caves in Nevada. Magnesium-rich magnesite is even used as an element in the manufacture of Epsom salts and fireworks.
This stone can be enhanced through dyeing because of its good porosity. The dyed blue-green color makes it an economical simulation of turquoise. Magnesite gemstone beads with brown and black surface patterning are flooding the beading and jewelry-making market. It can be difficult to distinguish enhanced magnesite from genuine white and colored turquoise.
Website powered by Network Solutions®