Ruby and Kyanite is a relatively newly available stone. Ruby vibrates with an enthusiasm for Life and provides an Energy of anticipation of the future, leading the user on a forward path. In addition to its other properties, Kyanite keeps that Energy field clear and protected. Where Ruby assists one in dealing with stress and anxiety, Kyanite helps cut through cloudy thoughts and indecision. Since Ruby is a stone of the Red Ray of Love, being mixed with protective kyanite couldn't be more perfect as a protection stone for matters of the heart. These two stones working together create Strength in a calm and tranquil environment, allowing the user to continue moving in to the Positive and out of the Negative.
Ruby Kyanite massage wands.
Stone is from Tanzania
Lengths range from 3 1/4" to 3 3/4"



Ruby Kyanite C View 1
Ruby Kyanite C View 2
Ruby Kyanite D View 1
Ruby Kyanite D View 2
33.7 grams
1 1/4 x 7/8 x 3/4"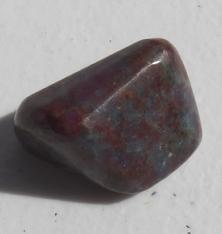 Ruby & Kyanite #2
22.8 grams
1 1/8 x 3/4 x 3/4
Ruby & Kyanite #12
29.2 grams
1 x 7/8 x 3/4"
Disclaimer: The information regarding the metaphysical and other properties and purposes of this mineral is provided for entertainment purposes only. It is not intended for diagnosing illness, prescription, or advice and should not replace proper medical attention. Consult your Doctor or other health care practitioner regarding health issues. Sister's Rocks is not liable for any use or misuse of this information.
Website powered by Network Solutions®