Nuummite is a combination of Anthophyllite and Gedrite with a hardness of about 6.
It is found only in Greenland and is very ancient; about three billion years old.
Nuummite is characterized by closely intergrown crystals which display flashes of iridescent color. Our Indian Nuummite is a little different, with peach to copper colored flashes of light, also known as Black Star Galaxy stone, but called Nuummite because it carries the same metaphysical properties. Most of the below is Indian Nuummite. If we list any Greenland nuummite it will be noted on the listing.
I tried to capture the flashes of color and only a few faintly show in the photos. There are lots and they are small, like twinkling stars the color of light copper or peach. You'll see them when you get the stone home.


Metaphysically, Nuummite offers clear vision of one's true nature by assisting in perceiving one's gifts, one's lessons, and one's power. It teaches self-responsibility and helps one eschew false humility. Nuummite gently helps one identify and utilize the gifts one has acquired through one's soul journey. It has the power to take one on a journey into the depths of the psyche and can help one to release energies trapped in the subconscious. It is a solid ally that reinforces one's courage and determination to do whatever inner work is necessary to be healed and whole.

Tumbled Indian Nuummite
Large = 8-15 g (3/4-1 1/4"), XL = 15 to 22 g (1 - 1 1/2"), XXL = 22 to 38 g (1 1/4 to 2") these are "average" numbers
Stones are packaged in a soft storage pouch and metaphysical info card is included



Nuummite Massage wand
1 per purchase
AVERAGE 4 5/8 - 4 7/8"



If we find more we'll list them here. Otherwise we go on a buying trip in February and hope to find more then.

Our beautiful tumbled stones of Nuummite are large and extra large.
Please be sure to check measurements.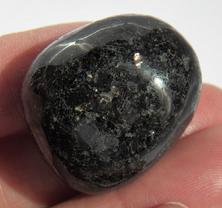 Item A
27.4 grams
1 1/8 x 1 x 5/8"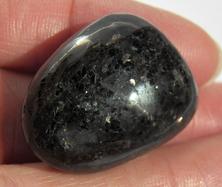 Item B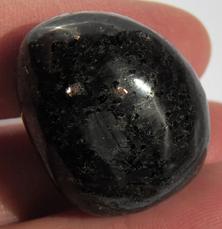 Item C
Disclaimer: The information regarding the metaphysical and other properties and purposes of this mineral are provided for entertainment purposes only. It is not intended for diagnosing illness, prescription, or advice and should not replace proper medical attention. Consult your Doctor or other health care practitioner regarding health issues. Sister's Rocks is not liable for any use or misuse of this information.
Website powered by Network Solutions®