Garnet is a stone of romantic love and passion. It is used in metaphysics to enhance sensuality, sexuality, and intimacy. It is said to bring positive thoughts and boost energy and is excellent for manifestation. It can also assist with success in one's career and building one's self-confidence. It is a protective energy stone that is especially effective for protection from evil, and is used for gentle spiritual healing. Garnet is associated primarily with the root chakra.
Tumbled Spessartine Garnet in Limestone Matrix from Namibia.

These are quite pretty and very unusual!

Stones are packaged in a soft velour pouch for storage and metaphysical info card is included

Extra Small stones are 2.0 grams or less and measure 3/8 to 5/8", Small pieces range from 2.1 to 4 grams and measure 3/8 to 3/4", Medium stones range from 4.1 to 8 grams and measure 1/2 to 1", Large stones range from 8.1 to 15 grams and measure 3/4 to 1 1/4", XL stones are larger than 15 grams range from 1 to 1 3/8" - these are average sizes. Usually the smaller stones are thin.



Tumbled Red (Almandine) Garnet from South Africa. Listing is for one stone. These are heavier than average stones, so your stone will be smaller than usual.

Polish is beautiful and the color is deep, dark maroon, nearly black depending on the light. Very beautiful stones, difficult to get the perfect photo.

XS - < 2 g (1/4 - 1/2"), S - 2.1 - 4 g (3/8 - 5/8"), Med - 4.1 - 8 g (3/8 - 1"), Large = 8.1 - 15 g (1/2-1"), XL = 15.1 to 22 g (3/4 - 1 1/4"), XXL = 22.1 to 38 g (1 to 1 1/2") these are "average" numbers



Mwakaijembe in the Umba River Valley, Tanzania
Spessartine Garnet is a stone of attraction, romantic love and passion, and is said to amplify one's charisma. It is used in metaphysics to enhance sensuality, sexuality, and intimacy. It is excellent for bringing positive thoughts and boosting energy.
Spessartine Garnet also stimulates creative abilities, encourages optimism, and gives one confidence by alleviating the fear of failure.
Spessartine Garnet stimulates the Root (Muladhara), the Spleen (Svadisthana), and Solar Plexus (Manipura) chakras.
Bulk Tumbled Spessartine Garnet from Tanzania. Individually packaged and labeled with weight. Stones are selected at random.

Average measurements:
Extra small pieces weigh less than two grams and measure 3/8 to 1/2".
Small pieces range from 2 to 4 grams and measure 3/8 to 3/4".
Medium stones range from 4 to 8 grams and measure 1/2 to 1"
Large stones range from 8 to 15 grams and measure 3/4 to 1 1/4".
Extra large stones are between 15 and 22 grams and average 1" to 1 3/8"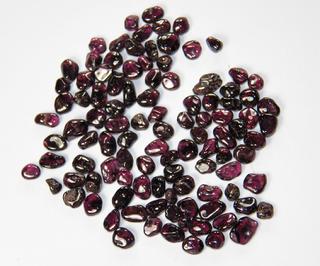 photo shows 100 carats
100 cts (20 grams) of tumbled garnet crystal from INDIA, size extra small, velveteen pouch and info card included



All of our tumbled stones are labeled and in a soft storage pouch.
All specimens have an identification label.
Tumbled Grossularite / Grossular Garnet

Grossular is the calcium-aluminum form of Garnet. The name is derived from the botanical name of Gooseberry (grossularia) in reference to the color of the stone.

Our Grossular is from South Africa.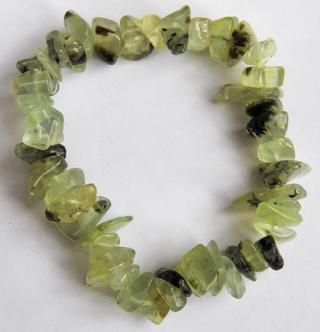 Beautiful Green Garnet bracelet
Chunky Chip bracelet
elastic stretch
One Size Fits Most
large chunks average 3/8 to 5/8"



These are beautiful, rough almandine garnets. Ready to tumble or wire wrap as is. Color is dark red and they'll get darker as they are polished.

Sizes average 1/2 to 1", occasionally one will be a partial or larger. Very nice stones.



Melanite is an excellent grounding stone, but is also a stone of protection and power. It not only clears and activates the first and second chakras, it can activate the earthstar chakra. This allows a connection between earth energies and life force energies, necessary for people who need to be creative. It will seal the aura around the one who wears or holds the stone and deflect stray negative energies, so it is an excellent stone for those in weakened conditions, such as suffering from illness.
When used with black tourmaline, black obsidian, and jet, properties of all stones will increase dramatically.
This is an excellent stone to be used in conjunction with blue chalcedony in children's rooms to prevent bad dreams - please take extra care to keep out of reach of the smaller child, of course, as it's shiny and pretty and a child could swallow and choke.
Disclaimer: This information regarding the metaphysical and other properties and purposes of this mineral are provided for entertainment purposes only. It is not intended for diagnosing illness, prescription, or advice and should not replace proper medical attention. Consult your Doctor or other health care practitioner regarding health issues. Sister's Rocks is not liable for any use or misuse of this information.
Website powered by Network Solutions®