Red Jasper - is associated with both Muldara (Root) and Svadhisthan (Sacral) chakras. It is a grounding stone and a stone of fairness and justice; it enhances responsibility, choice, and compasson. It is excellent for dream recall. Red Jasper allows one to use Energy in a balanced manner, controls passions, and assists in healing by maintaining positive movement with all types of disorders and disease.

Rose Jasper - Peruvian Rose Jasper is ideal for grounding and centering, and is highly protective. It strengthens one's connection to the earth. For the emotional body, it can provide a strengthening energy that eases stress and produces calm by cleansing and eliminating negative energy and stabilizing the aura. It may also be used to align the chakrasand is also a powerful aphrodesiac when combined with garnet or topaz.

Green Jasper is used for respiratory and Heart Chakra work. It is especially suited to tempering aspects of one's life that have taken on too great an importance. It works as a gentle daily reminder that the whole is only the result of all the parts and works best on ailments of the upper torso, digestive tract, and the cleansing organs.

Yellow Jasper has characteristics of helping one be strong and balanced in the social arenas, and protects one's social welfare. It is associated with the solar plexus (belly) chakra. Yellow jasper is a protective stone that particularly gives protection during travel, both physical and spiritual. It also shields one from negativity and can keep one from falling into a depression.
Sweet little Red Jasper Angel, measures 1" tall, 3/4" wide, 3/8" thick. Packaged in soft acrylic velvet storage pouch.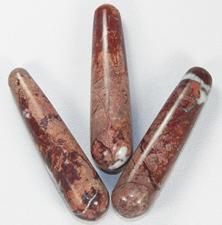 Rose Jasper Wand
Rose Jasper Wands from Peru. Hand shaped, hand polished, length ranges from 3" to 3 1/4" - you will receive one of the wands in the photo along with velveteen storage pouch, metaphysical properties card, and stone certification card.



We carry a wide range of massage wands, in different styles, sizes, and gemstones. Please click this link to visit our
Massage Wands


pages or find them under the Crystals/ Healing tab
Pink Lady Jasper
Triple Twist Chip bracelet
elastic stretch
One Size Fits Most
small chips average 1/4 to 3/8"



Disclaimer: This information regarding the metaphysical and other properties and purposes of this mineral are provided for entertainment purposes only. It is not intended for diagnosing illness, prescription, or advice and should not replace proper medical attention. Consult your Doctor or other health care practitioner regarding health issues. Sister's Rocks is not liable for any use or misuse of this information.
Website powered by Network Solutions®